How do you set up a digital transformation plan for a local authority?
How the department of Ille et Vilaine is turning its digital transformation ambitions into reality thanks to its Roadmap, and shares its experience with you.
How to mobilize an entire community around challenges digital!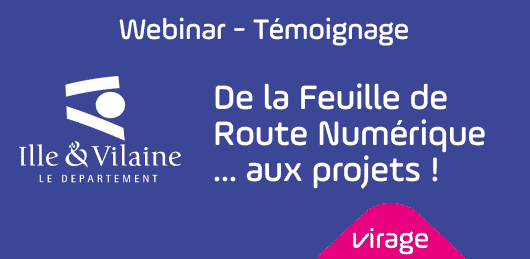 Webinar highlights
How the roadmap was drawn up
How to move from a strategic vision to 21 projects, 63 actions to address 9 major impacts
How to put the citizen, the agent and the community at the heart of a collective and ambitious territorial approach.
How to "lead your evolution rather than undergo a digital revolution".
This webinar will take you to the heart of a territory's Digital Transformation.
Roadmap players testify:
An exceptional testimony from those who have developed and implemented the digital roadmap:
General Delegate for Transformation - Mona Izabelle
Digital Transformation Delegate - Dominique Kergosien
Digital Systems Manager - Benoît Moraillon
WHAT IF WE MADE THE ILLE-ET-VILAINE DEPARTMENT A BENCHMARK FOR A HUMANE AND SUSTAINABLE DIGITAL TRANSFORMATION, SERVING USERS AND EMPLOYEES ALIKE?