In April 2020, the Département d'Ille et Vilaine invited us behind the scenes of its Feuille de Route Numérique. A digital transformation with a clear credo : "Lead an evolution rather than undergo a digital revolution". One year on, the department's transformation directorate is back with an exceptional webinar!
Twelve months and a health crisis later, what milestones have been reached? What are the first achievements of the Digital Roadmap? What resources are dedicated to digital transformation? How is the department managing the portfolio of projects that give concrete form to its digital and strategic ambitions?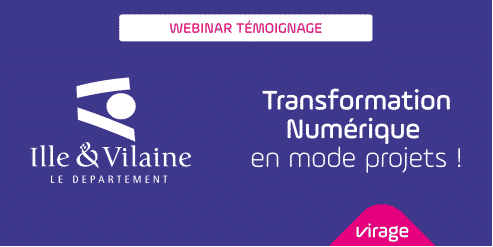 Webinar highlights
How has the department gone from ambition to execution of its digital roadmap?
How does the evolution of the "Aide personnalisée d'autonomie" (Personalized Autonomy Assistance) appraisal system - combining digital services and mobile computing - symbolize this transformation: being useful to both citizens and Department staff?
How has the Département equipped itself with the means to carry out its projects, through two contracts for Project Management Assistance and Project Management Assistance?
How has the community set up a steering system with a Projects Office?
How have the imperatives of distance learning both accelerated collaborative platform projects and encouraged the adoption of "digital"?
This webinar will take you to the heart of a region's Digital Transformation.
Roadmap players testify:
An exceptional testimony from those who, after having drawn up the digital roadmap, are now implementing it:
General Delegate for Transformation - Mona Izabelle
Digital Transformation Delegate - Dominique Kergosien
Digital Systems Manager - Benoît Moraillon
Project Office Manager - Lisa Garcia
Catch-up on the development of the digital roadmap
If you missed the first testimonial on the transition from Digital Transformation ambition to roadmap :
WHAT IF WE MADE THE ILLE-ET-VILAINE DEPARTMENT A BENCHMARK FOR A HUMANE AND SUSTAINABLE DIGITAL TRANSFORMATION, SERVING USERS AND EMPLOYEES ALIKE?