Visual management with the new version of Kanban
The new version 6.3 of our PPM and action plan management tools integrates visual management. The flagship feature is the kanban board for managing tasks: visualizing workflows. It's also a more visual and interactive project portfolio review. And to help you make the right decisions, the application features a brand new graphic library to help you make the right choices for your projects.
Kanban board: a key visual management tool
Kanban, developed by Toyota and popularized in IT by agile methods, has arrived in task management. Need to know what's going on in your workflow? A simple glance tells you which tasks are in progress, which are waiting to be launched, and which have been completed. A simple "click and drag" update becomes an alternative to post-it notes.
Bonus: add velocity to your column totals...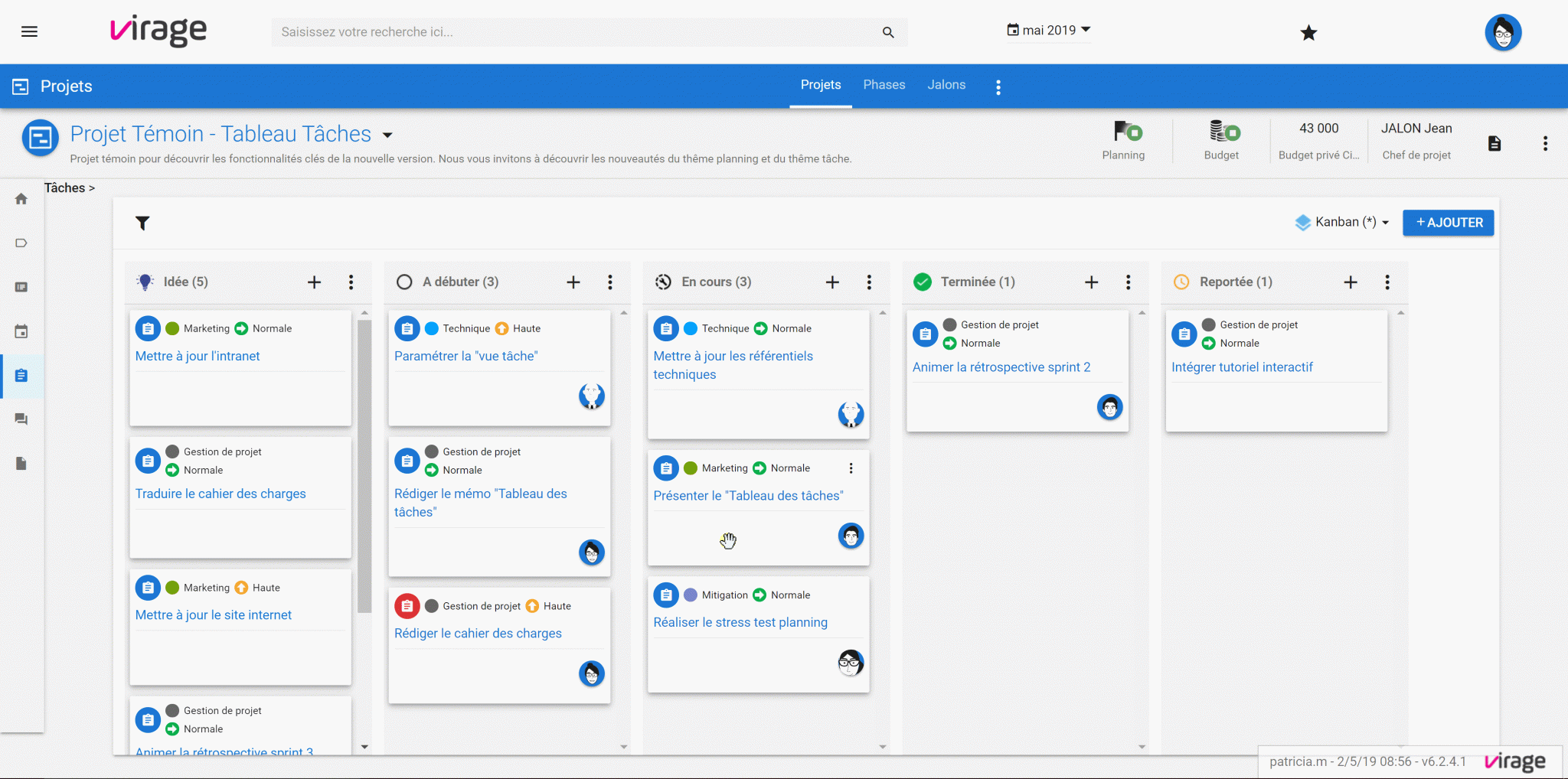 Post-it nightmare
Ever more visual tools
Decision-making is based on the indicator, and the indicator is presented as a dashboard. The emblematic dashboard of the "project review" application is now equipped with an update function for more collaborative meetings, displaying both indicators and literary information. The new version boosts graphic capabilities to make dashboards more visual and interactive. Graphics now feature dynamic filters, data highlighting and detailed data display.
An example is given by the famous bubble graph for arbitrage support. This graph provides three dimensions of analysis, giving the manager a "3D vision".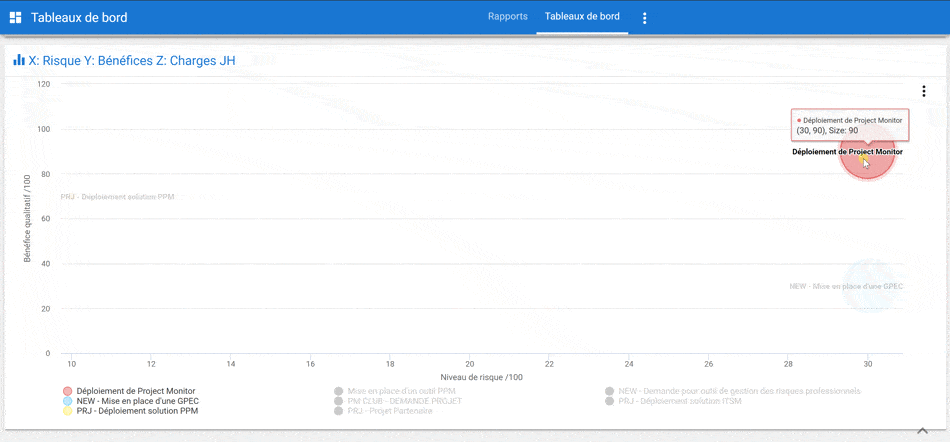 Also in this version
Gantt, a visual schedule management tool
Project Monitor 's schedule software is based on a Gantt chart. This is the project manager's visual management tool par excellence, presenting what needs to be done along a time axis. The Gantt was already interactive, with all the key functionalities required to manage a schedule project. With this new version, it becomes even more flexible when it comes to managing its structure, notably with functions for duplicating phases or milestones, a development that reinforces the insertions of portions of schedule.
Value your resources in your budgets
Would you like to integrate a financial view of the time spent by resources on projects and activities? This was already possible in a private accounting context, but now it's possible in a budgetary follow-up according to public standards. Convert the unit of time used to measure resources into a financial unit, and visualize them on the Committed or Mandated representations of your budgets.
Overhaul of the tool's collaborative features
Collaborative exchanges get a brand new design to offer project managers and their team members a more fluid user experience. From creation to consultation, via "comments" functions, this new version ensures that events are captured as close to the project as possible.
Enhanced Information System integration
The library of import/export functions is enriched by the ability to import planned and forecasted budgets. This capability is also linked to the financial capacity of your portfolio and the envelopes allocated to your management budget.
Webservices are also enhanced with new features for easier integration with other components of your decision support system.
If you would like to find out more about the new features :