The Real Estate Department and the IT Department of the Occitanie region share their PPM tool
Interview with Christophe Besson, Project Manager at the IT and Digital Department of the Occitanie Regional Council.
Discover how Occitanie is piloting not just one, but all its operations with a single Project Portfolio Management platform.
Progress, financial management, exchanges between stakeholders, monitoring of the development plan.
By centralizing the monitoring of operations, Occitanie is able to take a step back and inform its decisions.
When the Property Management Department wanted to acquire operations management software, CIO introduced them to the software used for their IT projects: Project Monitor.
In this article:
How do the DIN & DPI departments of the Occitanie Region organize their project management?
Focus on implementation within the CIO: Why switch to PPM - Project Portfolio Management - software to manage construction and renovation operations? 
The Occitanie region is the second largest in mainland France. It comprises 13 departments in south-west France. The main mission of the regional council is to determine the strategic orientations and public policies for the development and planning of the region. Its missions cover the economy, transport, the environment, education, culture and solidarity.
How do the DIN & DPI departments of the Occitanie Region organize their project management?
The Property Management Department (Direction du Patrimoine Immobilier - DPI) has sector-based teams in charge of new and refurbishment work at secondary schools.

Main types of operations carried out .
New builds and extensions
Renovation/Restructuring
Accessibility
Energy
Securing
Maintenance
The IT and Digital Department (DIN) is focused on 5 areas
Main types of projects carried out .
Work environment management (mobile office)
Management of internal network technical infrastructure
Document and archive management
Data management (GIS and BO)
Management of IS software, business studies and resources where projects are carried out
It manages 150 software and off-the-shelf applications.
FOCUS ON PROJECT MONITOR FOR BUILDING OPERATIONS MANAGEMENT
What are the challenges of the Public Real Estate Department?
The DPI - Direction du Patrimoine Immobilier - is responsible for managing real-estate operations, from the planning phase through to the end of the guarantee of perfect completion: reconstruction of public secondary schools and departmental buildings, extension of public secondary schools and departmental buildings, renovation of public secondary schools and departmental buildings: energy, functional and technical renovations, etc., as well as managing all the technical, administrative, legal and financial aspects of these operations.
At the Occitanie Region, the DPI specifically manages high school construction and renovation projects. The Occitanie Region decides to renew its Pluriannual Investment Plan (PPI), for the period 2021-2027. One billion euros of investment for educational establishments.
In particular, it will involve the 225 public high schools catering for 183,000 students, whose quality and durability the Region must ensure. To achieve this, 800 million euros will be invested between now and 2027 in :
The construction or extension of 8 lycées, at a cost of 175 million euros. Specifically, this will involve the construction of two new lycées, one to the north of Toulouse, with a capacity of 1,500 students, and the other to the east of Montpellier, with the same capacity.
restructuring high schools, continuing accessibility projects and improving the energy performance of buildings, reflecting the Region's energy ambitions.
Why switch to PPM - Project Portfolio Management - software to manage construction and renovation projects? 
When the Property Management Department wanted to equip itself with operations management software in 2022, the DIN presented them with the software already in use since 2018 for their IT projects: Project Monitor. They were able to capitalize on the achievements of the IT and Digital Department.
Whether IT projects or real estate operations, the fundamentals of project management have been brought into line with the benefits of the PPM tool: tracking deadlines, budgets, risks and governance.
What are the benefits of using Project Monitor to manage building operations?
Managing construction projects can be complex, but here are some tips on how to make it easier with PPM software Project Monitor :
Clearly define the stages of operations
Before starting a construction project, it's essential to clearly define objectives, requirements and expectations. This includes understanding the customer's needs, defining the budget, deadlines and expected performance.
Don't waste time and energy juggling several software programs. Control all aspects of your construction projects in a single tool.
From budget planning to resource management and risk management, you have a complete set of configurable modules at your disposal.  
With Project Monitor, you can control resource management and availability.
Construction operations involving a large number of players: centralize, store and prioritize all project information in one place!
Clear and regular communication is essential to facilitate construction project management. Make sure that all stakeholders are kept informed of progress, changes and potential problems.
Encourage collaboration between team members and foster an open, transparent working environment. With Project Monitor, communicate via Kanban tasks by empowering collaborators, send alerts to their mailboxes and write reports.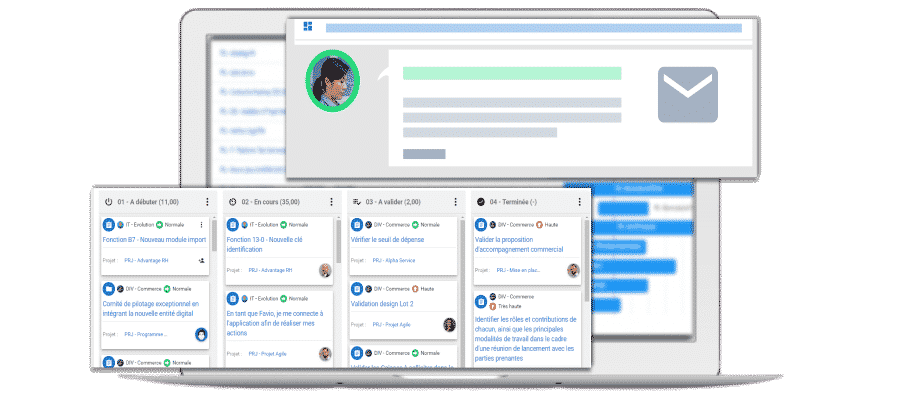 Monitor all phases of construction operation management and anticipate drifts  
Draw up a detailed project plan, identifying the different phases, activities, dependencies, resource requirements and deadlines. Use project management tools such as Gantt charts to visualize and track the schedule project. Detailed planning helps you to anticipate potential problems and take appropriate action. Project Monitor lets you define phases and milestones with dependencies.
Get a structured, simplified and consolidated view of your project portfolio. 

Identify potential risks associated with the construction project and implement measures to manage them
With tracking indicators and project reviews, establish a risk management plan that includes regular risk assessment, mitigation strategies and contingency solutions in the event of a problem.
From feasibility study to project closure, track all project stages to accelerate deliverability. Use summary dashboards and indicators to see the health of your projects at a glance (project weather forecasts, etc.).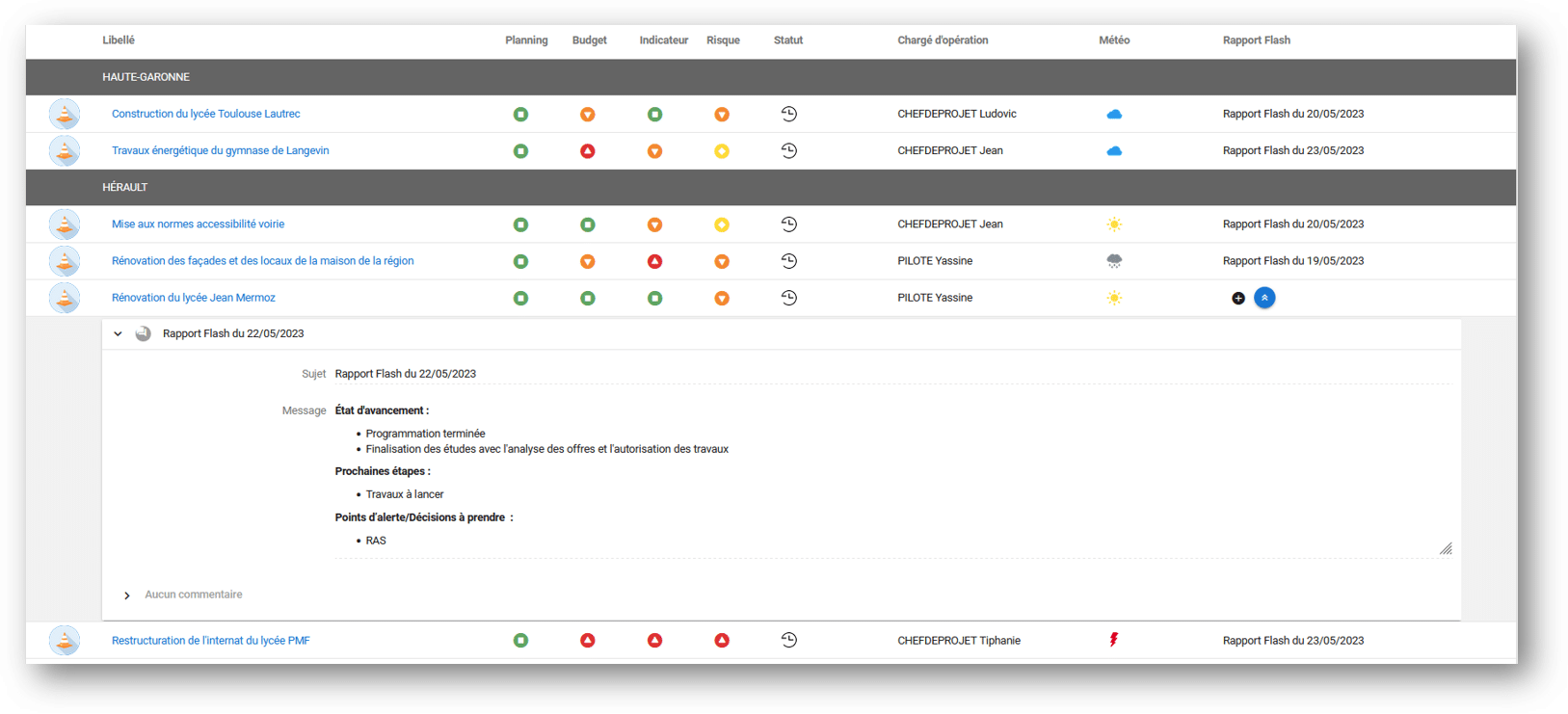 By applying these tips, you can make it easier to manage your construction projects, and increase your chances of completing them on time, on budget and to the expected quality standards.