How to analyze project risks: A guide to effective project risk analysis
Key steps + tools!
Learn how to manage project risks, from project inception to completion.
Best practices in project management, such as the PMI method, encourage you to set up analyses and action plans for project risks.
You need to start by asking yourself about the risks inherent in your project, before assessing them.
You then need to manage these constraints by implementing strategies to counter them.
Would you like to have a clearer picture of the processes you need to put in place? And what tools are available to help you better manage the risks associated with your projects?
In this article, we give you the steps you need to take to manage the risks of your projects:
examples of typical project management risks,
the 4 stages of a risk analysis and management process,
as well as a zoom on the project portfolio management software Project Monitor to help you with risk analysis.
What is risk in project management? 
A risk assesses the probability and impact of internal or external events that could influence the progress of a project. For example, in a construction project, an administrative appeal concerning the sale of a plot of land is a risk that could have an impact on deadlines.  
It's worth noting that project management guidelines such as PMI consider that a risk can be an opportunity. An unforeseen event can have a positive impact on a project. 
In project management, various risks can arise. They may be of a temporal, financial, human or material nature. 
Here are some examples of typical project management risks: 
Schedule risks: These are risks that can lead to slippage on the schedule website, and consequently push back the project completion date. Risk factors can be multiple, such as delays in the delivery of materials, human resources problems or actions that take longer than expected. 
Financial risks: These are risks that have an impact on the project budget. For example, an increase in the cost of energy or raw materials, or unforeseen expenses. 
Technical risks: These relate to the technical challenges of the project. You may encounter problems with the technology chosen for the project, or discover that the planned solution is not technically feasible. 
Resource-related risks: These concern potential problems with the resources needed for the project, whether personnel, materials or any other type of resource. For example, a key team member may leave the project, or an essential material resource may not be available. 
Stakeholder risks: These risks are associated with people or organizations that have an interest in the project. For example, a key stakeholder could withdraw its support for the project or change its requirements. 
Legal risks : These include risks related to the legal framework. For example, the bankruptcy of a supplier or changes in the legal environment could influence the progress of the project. 
What is project risk analysis? 
As we saw earlier, every project is subject to various types of risk - from technical challenges to personnel problems to market fluctuations. These risks can disrupt the project schedule, increase costs, affect the quality of the final product, and even jeopardize the overall project objective. 
Project risk analysis is therefore an essential step in project management. Its aim is to identify, assess and prioritize project risks. 
Why is project risk analysis essential? 
Risk management is essential if we are to be able to react in the event of events destabilizing the project. 
As early as the project analysis phase, it's important to consider the hazards that may arise during the course of your project, and the steps you need to take to remedy them.  
A thorough understanding of the risks involved will help you prepare for them, or even protect you from them. "An informed project manager is worth two..." 
An effective project risk analysis means : 
Identify potential problems before they occur 
Set up action plans 
Promote responsiveness within project teams and rapidly allocate capacity to risk management actions
Increase stakeholder confidence in project management
What are the 4 stages of a risk analysis and management process?
Risk identification : This is the first stage, where you identify and list all the risks likely to impact your project. This is a critical phase, because an unidentified risk is an unmanaged risk. This stage involves team brainstorming, document reviews, interviews with stakeholders and so on.
Risk assessment : Once risks have been identified, they need to be assessed. This involves analyzing the likelihood of the risk occurring and the impact it would have on the project. This information is used to prioritize risks and help decide which risks require immediate attention.
Risk treatment and response planning : Based on the risk assessment, you draw up appropriate response plans for each risk. This involves establishing strategies. There are four main strategies to consider: risk avoidance, risk transfer, risk mitigation or risk acceptance.
Risk monitoring and control: Once response plans have been implemented, it is essential to continuously monitor risks, track the progress of response plans and adjust them as necessary.
Although this process may seem straightforward, it requires in-depth expertise, a detailed understanding of the project context and, above all, effective data management.
How to carry out a project risk analysis?
The ability to identify, assess and manage risks is essential to successful project management.
To carry out a project risk analysis, we recommend the use of project portfolio management software, such as Project Monitor.
How does Project Monitor software help you analyze project risks?

With its dedicated risk management module, it provides project teams with a complete toolbox.
It facilitates management processes and increases risk visibility for all stakeholders.
With real-time project tracking and information sharing in one place, all team members can monitor project progress and quickly identify risks.
Find out more about the 4 stages of the risk analysis and management process at Project Monitor :
1. Identify and list all risks likely to impact your project
Project Monitor simplifies the identification of project risks, offering users, project managers and PMOs two options:
select risks from a risk "register", common to the platform and predefined by the administrator,
create project-specific risks that only they can use.
For greater visibility, risks can be classified in the software by categories such as financial, political, human or regulatory. Finally, to save time during project creation, risks can be preassigned to project models.
2. Assess the criticality of risks
With Project Monitor, you can assess risks by determining their severity and probability, automatically calculating a criticality level.
The overall criticality level of the project is displayed in the dashboard. At this stage, you need to assess the impact of each risk on a scale of 1 (low) to 4 (high), as well as their probability of occurrence on the same scale, from 1 to 4.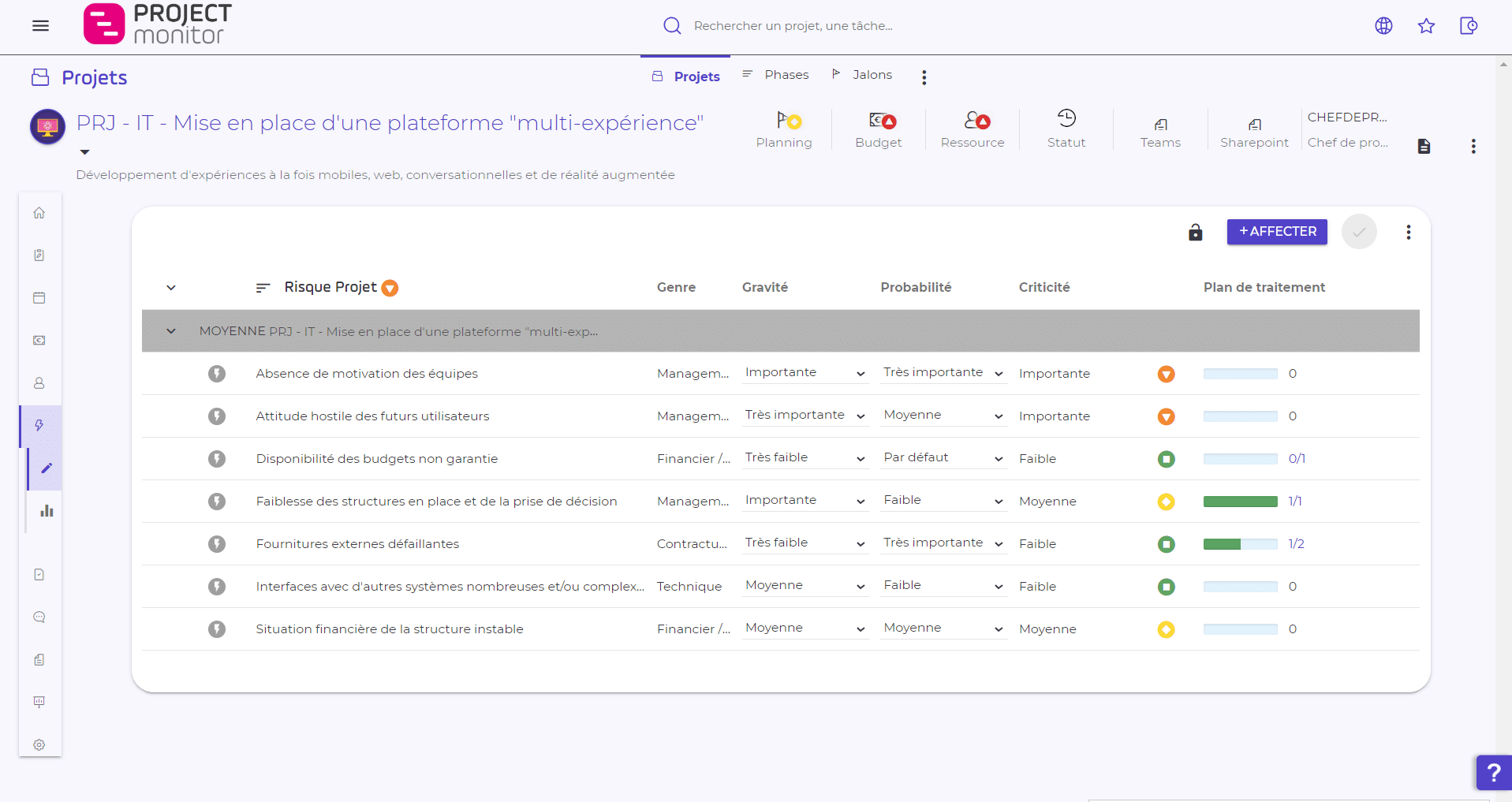 3. Develop appropriate action plans for each risk
Once risks have been identified and assessed, our software enables you to develop effective response plans. For each risk, you can associate a corrective or preventive task to build a project risk treatment and management plan.
You can designate the person responsible for implementing solutions for each listed risk.
The software also offers the option of tracking the progress of corrective and preventive tasks directly from the risk table.
4. Monitor and control risks with the project risk table
Would you like a project risk matrix? A risk mapping matrix gives you an at-a-glance overview of the distribution of risks on your project.
Our project portfolio management software lets you add and update risks as the project progresses, guaranteeing dynamic and appropriate risk management.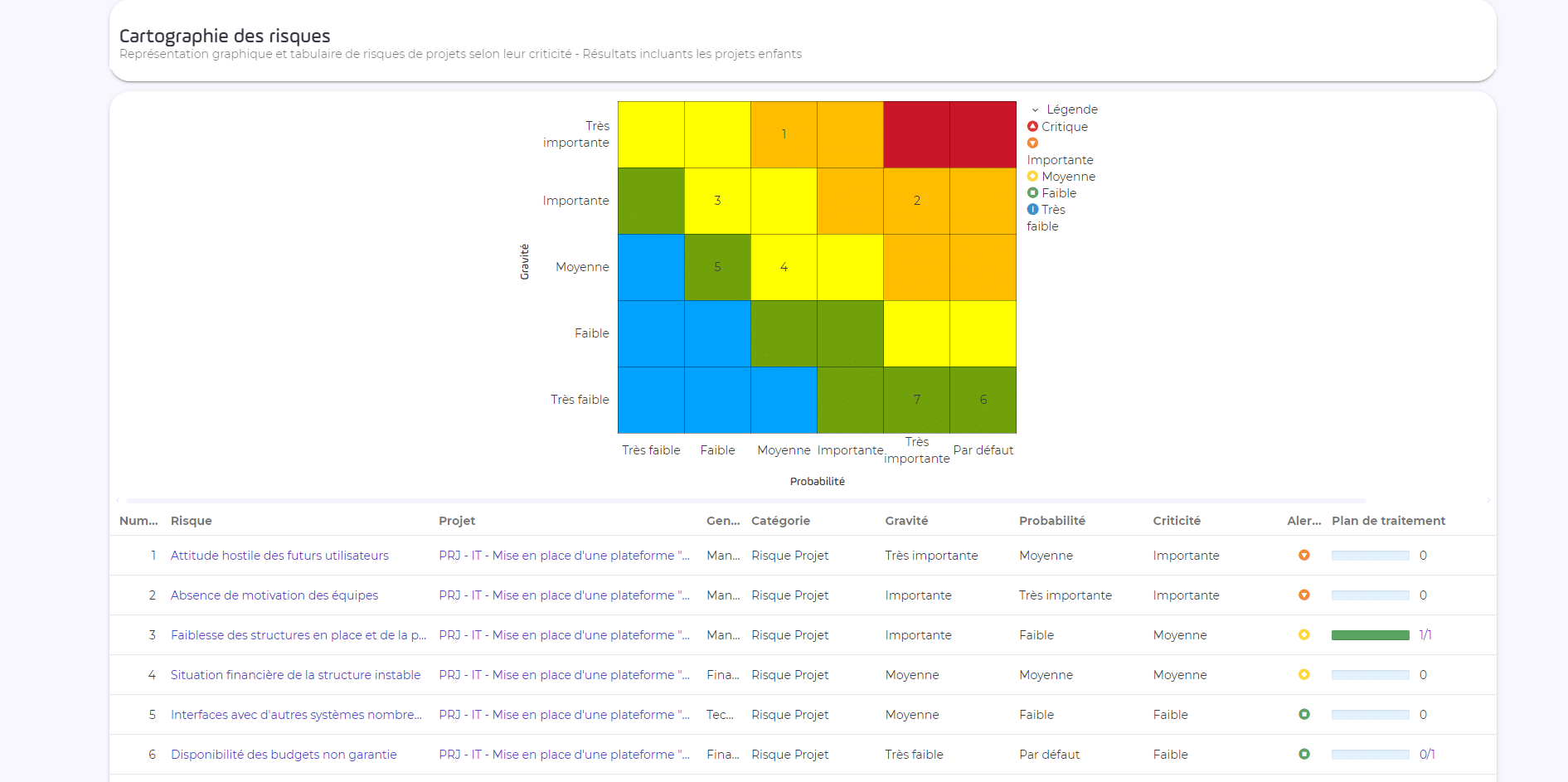 To find out more about how our PPM software can help you manage project risks, ask for a personalized demonstration.