Project tracking indicators: The tutorial for analyzing project performance
Find out how to analyze and improve your project performance today! Here's a step-by-step guide to identifying project success indicators.
Whether you're a seasoned project manager or venturing into the field for the first time, understanding and measuring project performance is essential to guaranteeing success!
In this article, we'll give you all the advice you need to properly analyze the performance of your projects, with concrete examples and tools.
You will learn to :
Define the main kpis for monitoring your project
Define success criteria for your project review
Differentiate between project analysis and project portfolio analysis
Create a project performance dashboard
What is a tracking indicator?
A project tracking indicator is a measure used to assess and monitor the progress of a project, in order to obtain quantitative or qualitative information on its performance.
It is a key tool for :
measure and monitor progress against targets,
detect any discrepancies,
make informed decisions to ensure project success.
During your project: What are the different types of project indicators?
5 project performance indicators to know and track during your projects
When monitoring a project, it is essential to put in place appropriate performance indicators to assess its progress and success. 
These performance indicators make it possible to measure project progress, detect deviations from objectives and take corrective action if necessary.
Here are a few performance indicators commonly used to monitor a project:
Number of milestones achieved : Which milestone has been reached? Which milestone is behind schedule? Compare target schedule and actual schedule in 1 click, thanks to the schedule management and Gantt chart functions of PPM (Project Portfolio Management) software such as Project Monitor.
Task completion rate : Define a completion percentage (tasks completed / tasks planned) X 100
Time spent on the project : Use time tracking to analyze the hours worked by your teams in relation to the hours initially planned. If the number of hours spent is higher than planned, you may need to revise your estimate of the time required to complete the project.
Project cost variance: This is the comparison of actual expenditure with the allocated budget. Calculate the difference between the actual cost of the project and the cost initially forecast. Calculation: (actual cost - budgeted cost) / budgeted cost.
Risk criticality: Evaluate risks by determining their severity and probability, automatically calculating a criticality level. The project's overall criticality level is displayed in the dashboard. At this stage, you must assess the impact of each risk on a scale of 1 (low) to 4 (high), as well as their probability of occurrence on the same scale, from 1 to 4.
5 project portfolio performance indicators to track during your project portfolio reviews
During your project portfolio reviews, it's essential to track relevant performance indicators to assess the overall state of your portfolio.
Here are five key indicators you should consider:
Financial profitability: This indicator assesses the overall financial performance of your project portfolio. It examines costs incurred versus costs generated.
Strategic alignment: Monitor progress against key milestones. It's essential to monitor your project portfolio's ability to meet deadlines.
Resource utilization: This indicator assesses the efficiency of resource utilization in your project portfolio.
Project weather: This indicator gives a different view of the life of the project, enabling the project manager to raise an alert and request arbitration. 
Priority and criticality: Determine the current priorities to be managed.
You'll be able to get a complete overview of your portfolio's performance and steer your roadmap.
At the end: How do you make a final assessment of a project?
How can we measure the success of a project?
For the final evaluation of a project, we recommend building a report around 7 success indicators:
Staying within budget
Rate of completion of deliverables
Quality of deliverables
Meeting deadlines
Resource utilization
Risks resolved
Customer satisfaction
What are the criteria for project quality and success?
Here are some more detailed success indicators to help you evaluate the success of a project:
On-budget: Comparison of actual expenditure with the allocated budget, measuring the percentage spent.
Deliverable completion rate : Measure of the number of deliverables completed in relation to the total planned.
Meeting deadlines : Assessment of the project's ability to meet the deadlines set for the various phases or specific tasks.
Resource utilization: Monitoring of resource utilization (time, budget, personnel) against forecasts and initial allocation.
Quality of deliverables: Assessment of the quality of project products, services or results, using pre-defined quality criteria.
Customer satisfaction: Measuring the satisfaction of customers or key stakeholders through surveys, evaluations or feedback. You can use the NPS Net Promoted Score to measure customer satisfaction.
Risks resolved : Track the number of risks identified, assessed and resolved during the project.
These success indicators enable us to measure the project's results and detect any deviations from objectives.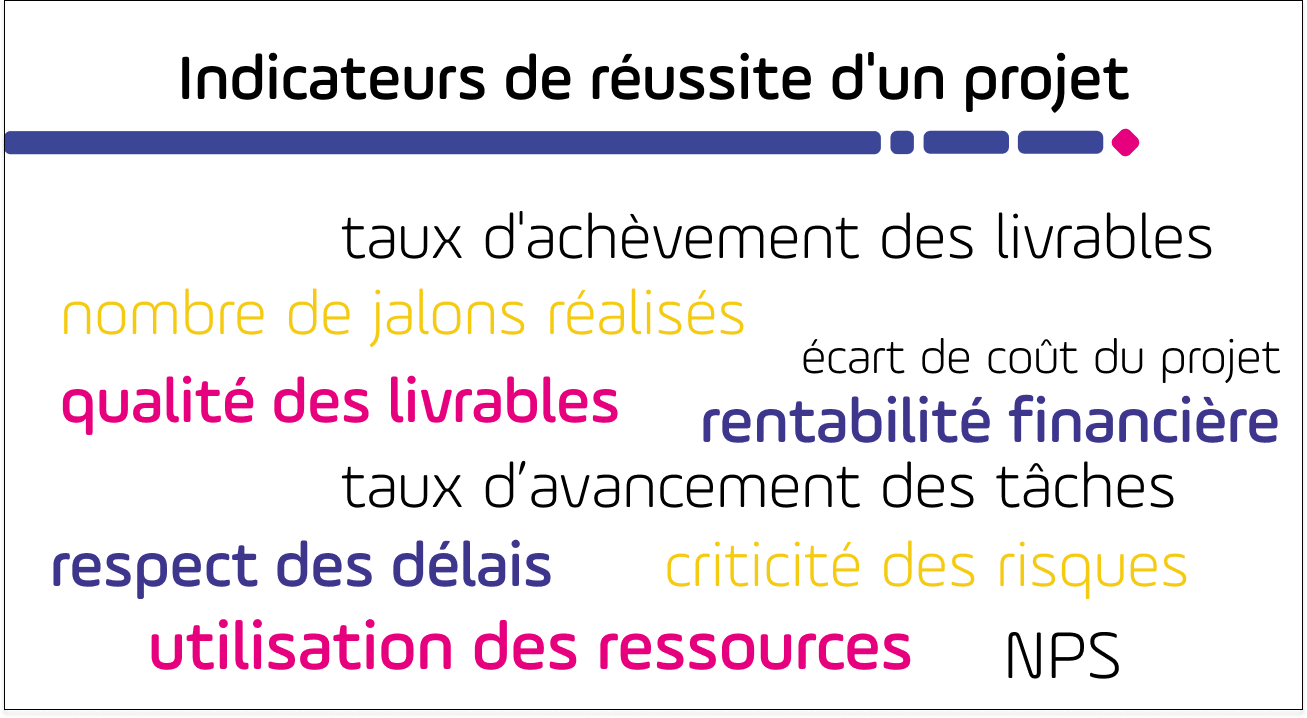 Case study: Key KPIs implemented by Borne Solution to measure project performance
With the Project MonitorBornes Solutions was able to put in place an entire data infrastructure enabling it to monitor and control projects in a very detailed way.
Interpretation of the data has enabled the creation of key project performance indicators such as :  
Average project duration  
Number of projects managed per project manager 
Number of projects by type  
Identifying project complexity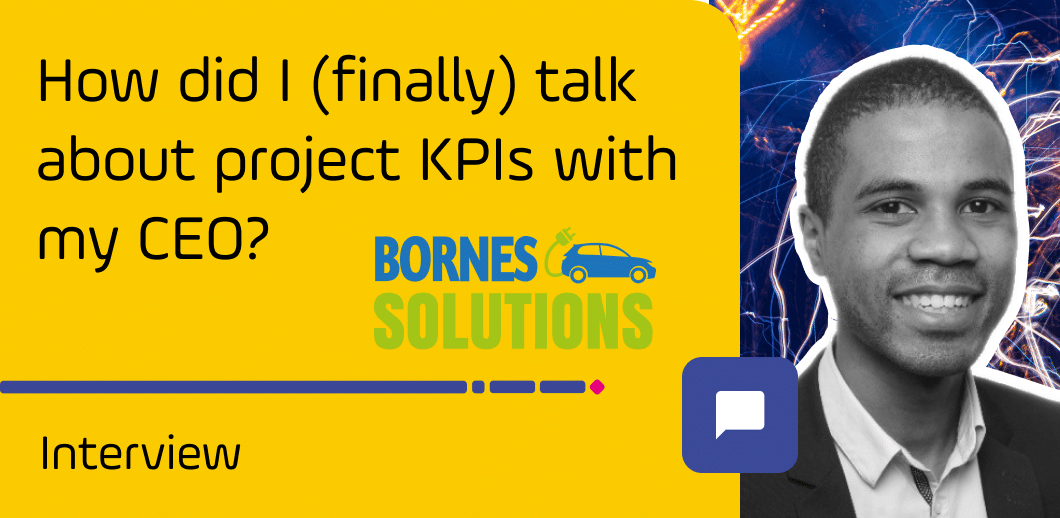 What's the difference between project analysis and project portfolio analysis?
Project performance
Project analysis focuses on the detailed assessment of an individual project.
Project analysis generally aims to
assess its feasibility,
estimate the resources required,
identify risks,
define measures to achieve specific project objectives.
Project portfolio performance
While project portfolio analysis takes a broader, strategic perspective by evaluating a set of projects and their interactions, project portfolio analysis aims to :
make informed decisions on resource allocation,
assess the portfolio's overall performance,
identify potential synergies between projects,
align the portfolio with the organization's strategic objectives.
How to create a project performance chart?
To analyze the performance of your projects, you'll need to set up a project performance monitoring dashboard.
If you work in project portfolio mode, project portfolio management software will come in very handy!
Creating a project performance chart requires advance planning, selection of appropriate indicators, regular data collection, analysis of results and effective communication with stakeholders.
Before embarking on the creation of a performance chart, ask yourself what its purpose is.
What type of employee is the table intended for? Is the table intended for operational monitoring (project managers) or strategic monitoring (codir members)?
What indicators are useful for governance bodies?
What indicators are useful for analyzing results?
How do you measure return on investment?
How will the results be communicated?
Here are some tips for creating your performance chart:
1. Identify the stakeholders involved
Anticipate the communication of results. A performance chart is first and foremost a tool to help you analyze and communicate.
2. Define performance targets
Identify the specific objectives you wish to measure in order to assess project performance. As seen below, performance criteria are generally based on cost, schedule, performance and quality objectives. Percentages of completion and deviation from target objectives are then defined.
3. Set targets or thresholds
For each indicator, you need to evaluate the situation at the start of the project and the one you expect at the end. These values will help you create success criteria. You'll be able to analyze whether the project's results are in line with expectations, or whether they require corrective action!
4. Organize data in a table
Create a table highlighting each performance indicator. Fill in the table by entering the actual data for each performance indicator. You can also include formulas to calculate deviations from established targets or thresholds. Examples of indicators :
5. Communicate results visually
You will use the report to generate reports or visual graphics to communicate results to project stakeholders. Make sure you present the information in a clear and understandable way. Some project portfolio management software, such as Project Monitor, can generate slideshows for you, or be coupled with BI tools.
💡 The portfolio review committee plays a crucial role in project monitoring. In Project Monitor, several features are available to facilitate this monitoring:
Dashboard You can set up a project dashboard in Project Monitor, sorted, for example, by project manager. Each project manager will be able to present indicators to the relevant people, view the latest flash report for each project, and complete a new report - all without having to switch pages. This provides a clear, concise overview of the status of each project, and enables effective collaboration between committee members.
Report schedule The schedule report allows you to visualize the timing of management projects in relation to each other. This feature gives you a chronological view of projects, making it easier to manage dependencies, identify potential conflicts and adjust priorities if necessary. So you can make informed decisions about the scheduling of projects in your portfolio.
Portfolio slideshow The portfolio slideshow takes the form of a PowerPoint presentation, with configurable indicators and graphs. Each slide is dedicated to a specific project, highlighting its key indicators and graphs. The review report can be completed by project, consolidated for the whole portfolio, and then shared with participants by e-mail. The result is a visually appealing, personalized presentation of important information for the review committee.
With the various functionalities offered by Project Monitor, you have powerful tools at your disposal to effectively monitor and present the status of your project portfolio at review committee meetings. These features help you to centralize information, facilitate collaboration and make informed decisions to ensure the success of your project portfolio.
Example of a project analysis dashboard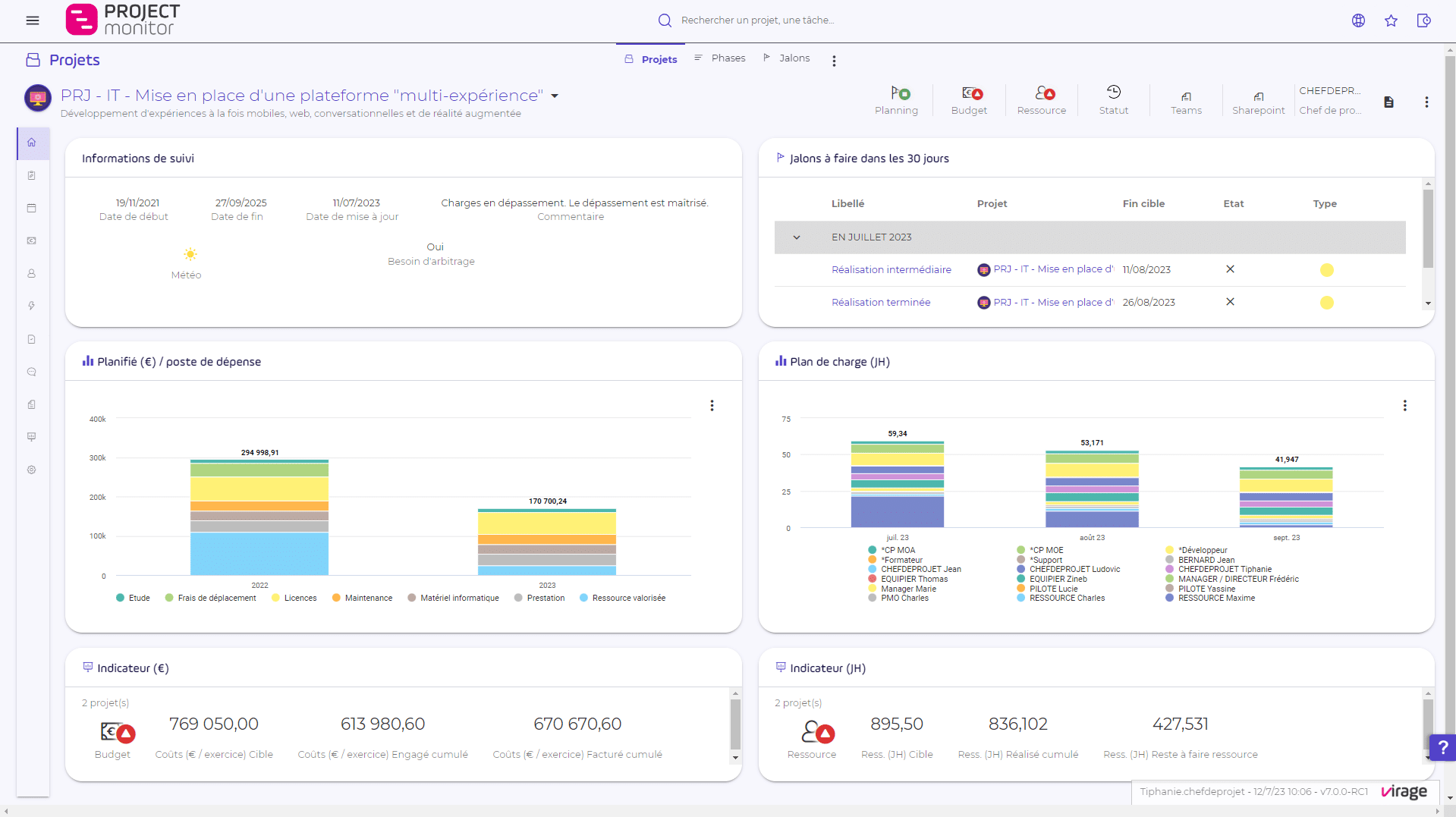 Example of a project portfolio analysis dashboard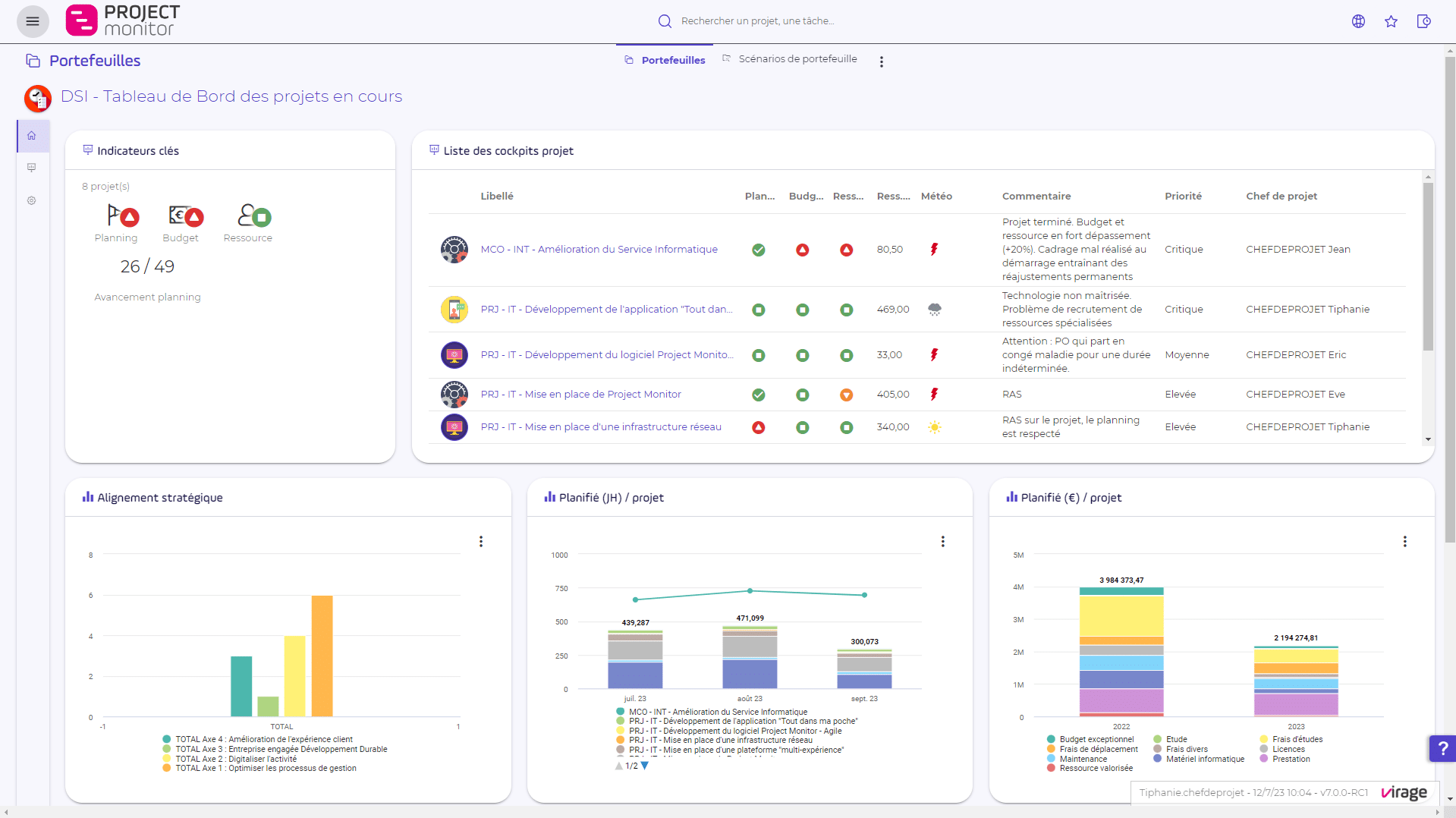 Discover Project Monitor software to evaluate your project performance!
Project Monitor 's reporting tools and dashboards provide you with analytical reports on your organization's activities and results. These decision-making tools transform your data into usable information. They are an essential part of your regular project management reviews.
With Project Monitor you can :
Optimized project & portfolio management, for the success of your projects
Dashboards, calculated in real time, offer all key project indicators:
Get a 360° view with dashboards
Analysis of your project portfolio is facilitated by all project themes, business indicators and project KPIs. They provide a single or multi-project view, with quantitative and qualitative data.
Update your projects live
Reports enable real-time integration of reporting data into your personalized dashboard. Then animate your portfolio reviews from the dashboards and integrate your decisions.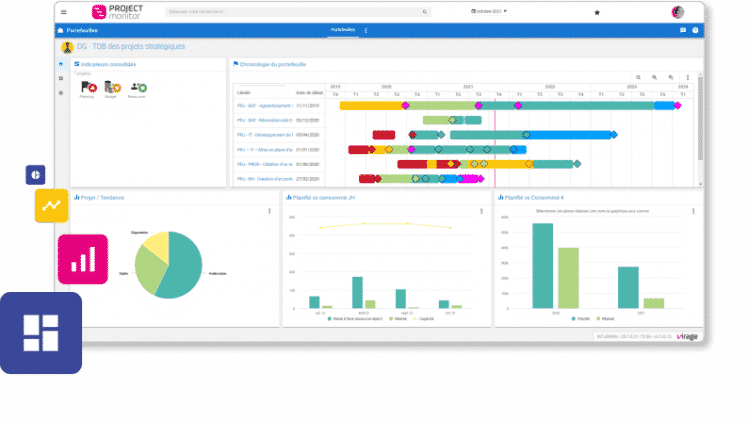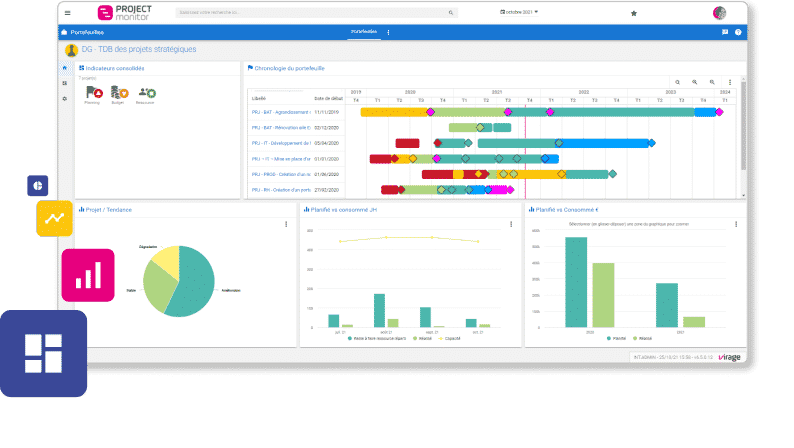 Use detailed or summary dashboards to find out everything you need to know about the progress of your projects.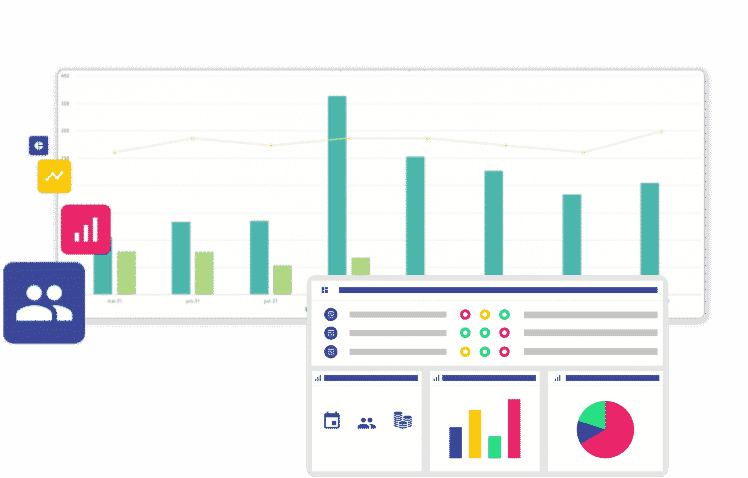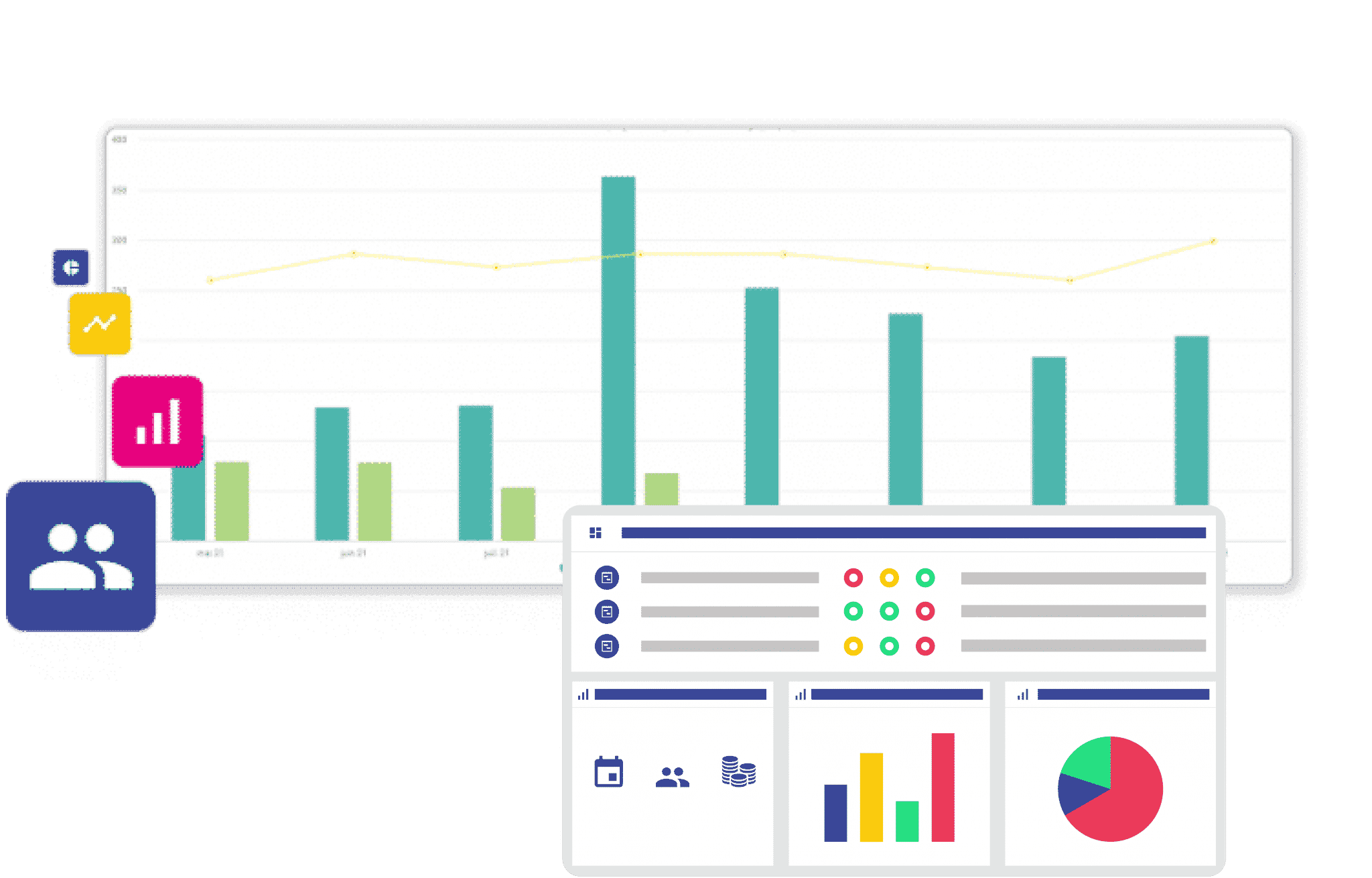 Simplify the management of your project portfolio with the project and portfolio review facilitation features of Project Monitor.
Find out how to keep track of your projects with Project Monitor
Let's build your vision together now. Choose the right software for your needs
What are the main features?
What integration options are available?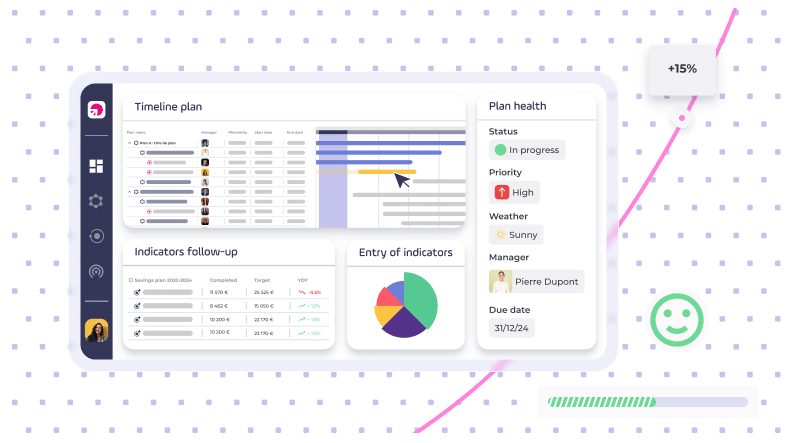 Read more
Does our software meet your needs?
Let's take a quick 15-minute look at your desired functionalities!
And get the link to our demonstration video